Jesus knows all of our secrets. There's no point in hiding from him. We become vulnerable whether we like it or not before Christ, our God. The living water is a gift that changes our lives and gives us reason to live.
This sermon is quite a bit different from how it was written, therefore, please listen to the sermon rather than read it. The sermon notes which are included for convenience.
---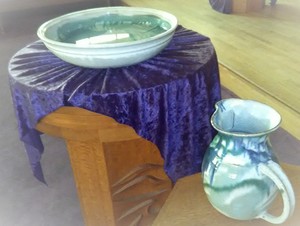 Good morning to you my sisters and brothers in Christ, saints and sinners, children of God.
The narrative of the Samaritan woman at the well is gorgeous, and so full of possibilities in its own right. We have Jesus walking in Samaria, and he comes to this city and conveniently, while his disciples are away getting food, he stops at Jacob's Well, where he encounters this woman. To understand the tension, it helps to know a little bit about the different characters. While Jesus is a Galileean, he is nevertheless specifically Jewish, just of a rural variety. And furthermore he is, at least to his disciples, a rabbi, a teacher, kind of a holy man. Samaratans like this woman are of a different breed of people altogether. It's not that they're that different from Jews, their religion stems from worship of the same God that the Jews worship.... Yahweh. But for the Jews, Yahweh is at the Temple in Jerusalem, and all worship must take place there. For Samaritans, the worship takes place on Mount Gerazim. The other major difference belongs to the distinction of the Old Testament, because the Samaratans were the ones who remained in the land of Israel during the Babylonian exile, and believed that their version of the face remain uncorrupted from Persian and Babylonian influences.
And from these minor differences comes a major break, because the Jews considered the Samaritans, in many ways, worse than Gentiles. For a holy man such as Jesus to be speaking with a Samaritan woman was simply unheard of, particularly on his own. It was a violation of several laws and more significantly, social customs.