« Remaking History | Main | People Who Need People »
September 1, 2004
Frances Blows Me Away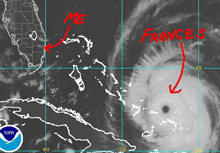 She Loves Me, Yeah, Yeah, Yeah
I should be nervous. I should be freaking out. Instead, I am getting excited.
I've never been afraid of hurricanes. Somehow, just knowing one is about to bear down on me gets me excited.
I remember 1992, and the townhouse that I shared with George when Andrew came through. I was thrilled listening to the strange sound of hundred-mile-an-hour battering the outside of our home. The electrical connection to the house would spark regularly, but it was only one more thing to add to the excitement of the event.
I drove down the Florida turnpike during Irene 1999, a category one that nobody expected to be where it was, barely managing to keep my car on the road during rush hour, with torrential rain and 60 mile-an-hour winds trying to send me into the cars around me. What did I do? I tried my best to drive over 50 mph. I had to get to our dealer's house and pick up drugs for Michael and me before the excitement of the storm passed.
One would think that now that I am sober, I might take a different approach on the events, but for some reason, I am eager with anticipation. I feel compassion for the people who will inevitably perish at the hands of such a storm; and pray that I am not among their numbers, but beyond that, I have no fears.
Certainly, I know that my house could be damaged—but I have insurance, and I need a new roof anyway. Times have changed since Andrew. Homes have been built to better standards since then and the insurance industry will not be suffering a catastrophic loss like they did then.
Long-term power outages will be a serious problem. We'll lose the fish tanks if the power is off more than 8 hours, but I can always set the critters free. The food situation will be difficult, but we haven't had a lot of money lately to spend on groceries, so there's not much likelihood of things spoiling.
The worst part would be not having an Internet connection for a long period of time. And I spent twenty-four years of my life not connected to the Internet. What's a few days/weeks?
So I have a realistic perception of the possibilities that Frances poses—and I'm still excited about our impending doom. I just don't understand why I should feel this way. I'm not an excitement seeker. I've never bungee jumped or skydived, rock-climbed or even skied down a slope. What is it about hurricanes that makes me get all excited and eager with anticipation? Was it something from one of my past lives? Hurricane Betsy hit the Gulf Coast less than a year before I was conceived; and I haven't asked, but I think that may have been somewhere in Mobile.
Forty-eight hours looks to be the current estimate for landfall. I'm praying that I'll make it through safely. Beyond that, I'm looking forward to it.
Satellite photograph stolen completely without permission from The National Weather Service
Posted by Bastique at September 1, 2004 11:59 PM
Comments
Post a comment