« Geekslut fans | Main | Good Luck Bad Luck »
September 14, 2004
Tight Ends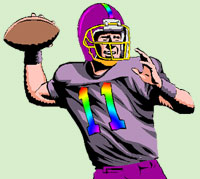 Looks like me, right?
Why is it that when I'm feeling happy I don't feel as if I have anything to write about for the blog? I don't want to be stuck in the negativity of the hurricane season or the election season or football season. Yes, that's right, it's time for us to avoid any discussion about how poorly the
Miami Dolphins
are doing for yet one more year. We have an excuse for not paying attention. Self-respecting gay men don't watch football. Unfortunately, our hetero counterparts have to justify supporting a losing franchise year after year.
I used to have this fantasy that once Dan Marino retired from the sport, the team would finally get to the Super Bowl. Like a sort of ironic poetic justice, for making me have to look at Dan Marino's goofy face day in, day out, on the news, on local commercials; over and over again. Well, he retired some years ago. The Dolphins still haven't won the Super Bowl, and I have to see Dan Marino on every automobile commercial for the South Florida automobile uber-dealership, Maroone. Note: This link will subject you to Maroone's awful jingle. What kind of self respecting advertiser would destroy an already contrived song like the "Theme to Ghostbusters"?
I don't really care about the Miami Dolphins. Is that bad? I've lived in South Florida for fifteen years come November. I moved from Washington DC, where I spent most of my childhood, a football watcher and die-hard Redskins fan, and living in South Florida with our uninteresting football team has numbed me to the sport altogether. I can't even tell you who's on the team. Do they ever get into the playoffs?
The Bucks, now, that's a Cinderella story. They were a joke when I was a kid... and they won Super Bowl XXXVII in 2003. Know how I know that number? Because that's the same age I turn in the same year. The first Super Bowl, attended by twelve people took place just 18 days after I was born; January 15, 1967. People had to watch it in black and white because color television gave off x-radiation and caused permanent sterility. It was played between two teams, Kansas City and Green Bay that nobody hears much about any more, in Green Bay, which is named that way because the pollution in Lake Michigan has caused the entire region to be clogged with algae.
I know it sounds like I'm rambling. But I'm talking football, right? Since when has it been interesting?
Posted by Bastique at September 14, 2004 11:58 PM
Comments
You know you can still be a Redskin fan. They do have the wonderful Joe Gibbs as coach again. There are also a few gay men who have played professional football. I can't think of any names right now, I did see one guy on Oprah last year. Sis
Posted by: Your Sister at October 1, 2005 9:19 PM
Post a comment