« 120 Mile per Hour Winds | Main | Hurricane Wilma drops Tree in Pool »
October 29, 2005
Through the Glass Frighteningly
I took a number of photographs during the storm but single images have a difficult time conveying the magnitude of the incredible winds that Wilma cast against us.
The previous entry showed the hurricane from the front, or eastern view of our house, where I was protected by the house itself from the westerly winds. This photograph was taken through one of our rear full height windows, on the west side of the house.
I would like to point out one thing: We did have plywood against these windows. The one covering this particular window had blown off. It was rather frightening knowing the power of the winds buffeting toward that side of the house, only inches away from me.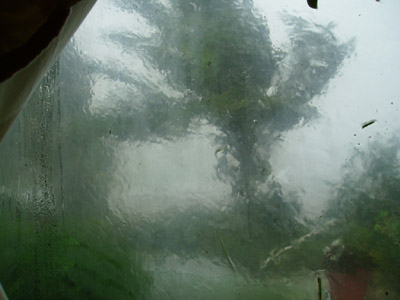 I got away from there quickly.
Posted by Bastique at October 29, 2005 7:35 PM
Comments
Hey C.,
Wow.Cool pics!Getting a bit close to the storm aren't cha? EeeK! You guys have had some really tough weather this year,huh?Bummer!
So what's up w/ you and Micheal? Did he ever get out of there...or just moved? Not sure from reading your archives.Oh,and hey!! Congrats on kicking the cig's!!They say your adding days to your life by not smoking...so I gotta give you props for that!!
Take Care (((hugs)))
Tammi
Posted by: Tammi at October 30, 2005 7:00 AM
Post a comment