« So much to say, so little to gather | Main | 120 Mile per Hour Winds »
October 18, 2005
White Ibises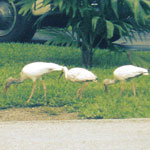 A co-worker and I were recently talking about local wildlife and I mentioned how fascinated I was by watching white ibises, and how lately I've seen local flocks that included numerous juveniles, birds that have not yet achieved a full white state; and how entire flocks seem less afraid to be around humans. To my surprise, she had no idea what an ibis was.
I did a search on the internet and wanted to show her a picture, but along the way, I discovered that ibises do not reach adulthood until they are five years of age. Furthermore, a Eudocimus albus, as they are known to the scientific community, can live up to 20 years old in the wild. At that age, perhaps these birds are becoming use to being around humans in neighborhoods like mine that take care of our ducks, grebes and other waterfowl.
Yesterday I was driving down the street and caught a foraging flock: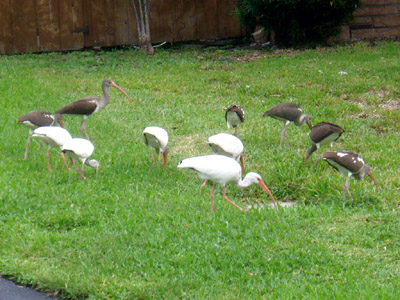 Posted by Bastique at October 18, 2005 9:29 PM
Comments
HEY CARY
also...Ibis are the first to return to an area after a hurricane...a fun fact I guess.
HOW'S LIFE?? You guys doin ok...????
Later, Michael
Posted by: Anonymous at October 22, 2005 1:49 PM
Thanks Michael!
As a matter of fact, I've seen a number of white ibises running through the neighborhood in the last few days! (Along with countless ducks)
Posted by: Bastique at October 29, 2005 7:44 PM
Post a comment