« Benches | Main | Road rage »
June 20, 2006
Holiday in the Park
I am astonished by the great many cityfolk out here at Golden Gate Park on Memorial Day. Looking around we can see groups of people sunning, listening to music, playing games—and I wonder how come we can't find anything of the sort in South Florida.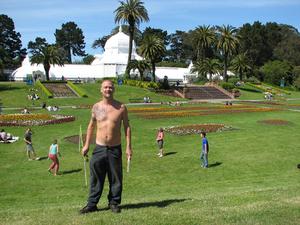 Me standing in front of Golden Gate Park's
Conservatory of Flowers on Memorial Day.There are feelings that I can't adequately convey with simple words, and yet pictures don't accurately portray the sense of being there. I'm having a feeling as if I'm a part of a greater community, a larger event, part of something more than just myself!
Unlike in South Florida, where "community" seems to be only a word—a member of a larger part of lost language related to courtesies and little acknowledgements of one another's existence. Here in Golden Gate Park, or anywhere in this city, I can make eye contact with human beings around me, and share these life experiences that are meant to be shared.
It is a wonderful thing to be acknowledged by a stranger, to have someone notice your legs are tired and you need to take a break from standing. So many folk are victims of isolation, sometimes due to illness or lack of mobility but usually self-imposed. Acknowledgement is a way of being valued, not by what someone can earn from us but by simple virtue of our existence. I see it in San Francisco's subways and trains, on the street. A smile. A "hello". Perhaps a wink from time to time.
I reflect with a bit of melancholy. O, my journey has just begun and already I loathe the return to my humdrum home. This City of Gold—this San Francisco—I am enraptured!

Posted by Bastique at June 20, 2006 9:00 PM
Comments
Post a comment