« Trying Times of Tina | Main | Go Meme »
August 24, 2004
7-11's Evil Plan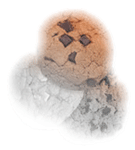 What's the secret ingredient?
I have a problem, and it keeps getting bigger. I can't stay away from those delicious
3-for-$1.19 cookies at 7-11
. This evening I bought a three-pack of oatmeal raisin for Will, and a pack of white chocolate for myself, and a second pack of chocolate chuck that I hid in the truck.
I find myself mapping out my travels to make sure that there's a 7-11 on the way. I feel a need to hide the fact that I've stopped by one. I eat the cookies in the car and try to hide the evidence.
I call them crack cookies. If I remember correctly, the Southland Corporation, parent company of 7-11, is based in Texas, birthplace of all conspiracies. Many people that shop at 7-11 are the underclass. Too many of the underclass, who traditionally vote Democrat spend all their money on cookies, get too fat to make it to the polls. Republicans win. In fact, this has been going on for the past few years; just look at the trends: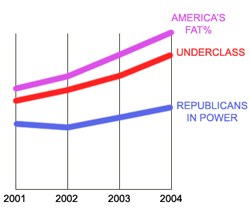 And I can't get off of them. I try to stop thinking about the cookies, but they keep calling me back.
I can't write any more, I'm having a sugar crash...
Posted by Bastique at August 24, 2004 11:05 PM
Comments
Personally I am addicted to those pink frosting coated sugar cookies at 7-11. Have you seen them? I wish 7-11 was closer... I would probably go and get one now...
:0)
Posted by: Vanessa at October 1, 2005 9:35 PM
I haven't seen the ones with pink frosting on them. Maybe their not an option in South Florida.
Could it be that the cocaine content is too high for our sunny shores?
Posted by: Bastique at October 1, 2005 9:36 PM
Post a comment