« 38 | Main | Random Links to an End »
December 29, 2004
My poor cat
It's been a rough day for me. My poor cat Joplin, who has always had a bit of difficulty where the litterbox was concerned, has of late developed a rather nasty problem with bladder control, bowel control, and difficulty walking on his hind legs. I've been trying to hope it would go away for several weeks now, but it's only become progressively worse.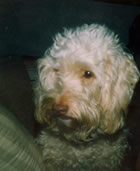 Hearken back to 2002, when Michael was first arrested—while he was in jail awaiting bond, his 11-year-old dog BJ began to have serious problems. He would go in the house, and rapidly began to deteriorate, not wanting to eat, in pain, weak. I couldn't deal with it, having to work, Michael being in jail, trying to figure out how to keep house. The day after posted bond for Michael in October, we had to run BJ to the Animal Emergency Hospital. We lost him the next day. I've had a hard time forgiving myself for the neglect.
I felt myself falling into the same cycle with my cat, who's now 11-years old, and has been with me for over 10 years, even before Michael and I got together. Finally, my roommate pushed me enough to where I had to take him in, whether I had the money or not.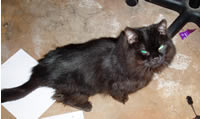 Now Joplin is not displaying any difficulty eating, and seems to be of a decent demeaner although somewhat frustrated at his inability to move without dragging his legs, but still this was developing into a rather serious problem. I brought him in and faced the Vet's, "You should have brought him in a lot sooner," with a self-effacing teary-eyed, "I know."
Alas, upon x-ray it seems things are not as bad. It doesn't appear to be cancer, like BJ seemed to have. Only a pinched nerve. Apparently, my poor cat cannot feel that he has a full bladder or full bowel until it just comes out. It explains everything—including the difficulty walking. He's got some bloodwork to be done, but we're certain to get him the right treatment as soon as we get the results.
I'm not going to lose another animal to my inability to deal with things. If I have to borrow the money, I'll get whatever needs to be done, done.
Posted by Bastique at December 29, 2004 11:24 PM
Comments
From what you write, I can't tell exactly what kind of difference it would have made for BJ if you HAD dealt with it sooner. But at any rate, you could forgive yourself for it and not beat yourself up.
As for Joplin, I find it amazing that Vets can figure those things out. I suppose the Xray will reveal it if the vet knew what to look for, but it's not like you can ask a cat "Does it feel like a pinched nerve?". I probably would have thought the worst instead of something minor. I had a persian cat named Reggie who died in 2002 (age 15.5) and he was relatively trouble free until later in life. Then it was cysts and other nasty things that frequently had to be dealt with at the Vet.
--Aaron
Posted by: Aaron the Atheist at October 1, 2005 4:00 PM
Post a comment