Sermon delivered at Good Shepherd Lutheran Church - San Jose
February 8 - Fifth Sunday after Epiphany
---
Greetings to you this day my sisters and brothers, saints and sinners, children of God.
Faith story
12 step programs are a way of finding a way out of many kind of self-destructive behaviors, such as alcoholism, narcotics, gambling, and eating disorders. The third step of any twelve step program reads as such: "Made a decision to turn our will and our lives over to the care of God as we understood him." Because Having a definition of God is a meaningful and important part of recovery from whatever behavior or addiction that seems to be troubling you.
I've heard a little saying that relates to the third step that goes like this: "There are there frogs sitting and sunning themselves on a log in the middle of a flowing creek. The log seems to be starting to go faster and faster and faster, as the sound of tumbling water gets louder and louder. The creek seems to disappear into thin air a little ways ahead of the log. One of the frogs makes a decision to jump off the log before it finally tumbles over the waterfall. The question is this: How many frogs tumble over the waterfall with the log?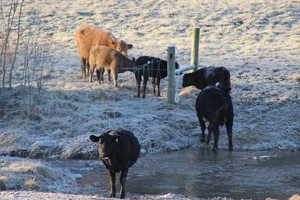 It's kind of a trick question. The answer is three. Making a decision to jump off the log isn't good enough. How many of you can relate to this? I can have a big plate of spaghetti and make a decision to put it aside when eaten half of it, and still wind up with an empty plate before I get up from eating. It's because making a decision isn't always good enough for us.
I have a good friend of mine who I'll call Sam who has a decent job that he goes to each and every day. It pays a good salary and it enables him to afford his security gated $2,000 / month studio apartment in Emeryville. But it's not a really great job. Sam is constantly under a lot of stress. It's a small office, and he isn't sure what kind of state his boss, the business owner, is going to be on a daily basis. Sometimes his boss is easygoing, has projects in place for Sam to manage, and gives him all the resources he needs to manage them. Sometimes his boss is aggravated, and yells at Sam, the receptionist, his other co-worker. Mistakes have been made and it's everyone's fault, no matter whose fault it is.