For the last few days, I have been wanting to do this extensive blog post about oppression and how to deal with people who want to counter definition 1 (involving the systematic denial of rights to a group of people) with their own, personal oppression per definition 2 (aka oppressive feelings, something psychological).
On Saturday, Michael and I hiked more than halfway to the peak of
Mount Tamalpais
, and after that we went to a friend's house for a lobster and
clam bake
. We encountered a bobcat and a rattlesnake.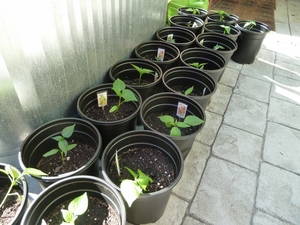 Today I dropped Michael off for a day work trip down to Los Angeles, did some shopping at
Berkeley Bowl
then spent much of the day planting 45 pepper plants that I have been growing from seed. It's time consuming work and I have not had the opportunity to do much else I'd planned. I'll be going to see a fellow intern off this evening, shortly.
To kvetch a moment: incidentally, I find it annoying that neither
Home Depot
nor
Orchard Supply Hardware
, with their huge garden department, carries cheap plastic plant containers. Luckily, just down the street in
Emeryville
, there is this wonderful store that I had never seen before:
Complete Garden Supply
. They had the exact containers I needed for 55 cents apiece.
Alas, my post on oppression will await another time when I'm not feeling so ... oppressed by how busy I am.