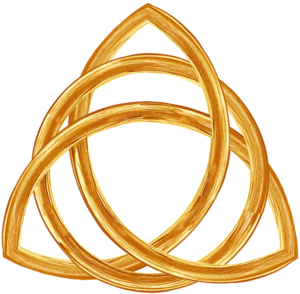 The Trinity is a doctrine that attempts to define what God is. What matters most however, is what God is to us.
Please listen to the sermon rather than read it. The delivered sermon is often considerably different than the sermon notes which are included for convenience below.
Sermon delivered at Lutheran Church of the Cross in Berkeley.
May 22, 2016 - Holy Trinity Sunday
"Ascended friend". Text is from Luke 24:44-53

---
Good morning to you my sisters and brothers, saints and sinners, disciples of Christ and children of God.
Father, Son and Spirit.
God in three persons.
The trinity.
Last Sunday we celebrated an evet in the life of the church, the coming of the Holy Spirit upon the followers of Jesus Christ. Today we celebrate a doctrine that arises based on our imperfect understanding of who God is, based on the words we from the mouth of Jesus Christ as spoken through his disciples and through the writers of the gospels, handed down to us through the centuries.
And our reading today consists of four very short verses in John which come from the section of the gospel known as the Farewell Discourse, that incredibly rich and lengthy dialogue that took place during the Last Supper in which Jesus explains to his disciples what is about to occur and what shall occur after he is gone. As we know, their lives were not all sunshine and daffodils after Jesus rose, but there is certainly some comfort to be found along the course of this dialogue, found in the gospel of John, also known as the Gospel of Love.