About me
I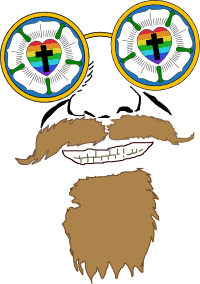 have been an administrative assistant, a transcriber, a copywriter, a short story author, a technical writer and a volunteer coordinator. Presently I'm a candidate for ministry in the Sierra Pacific Synod of the Evangelical Lutheran Church in America; and I'm currently studying at Pacific Lutheran Theological Seminary, although in August I will be the vicar at Christ Church Lutheran in San Francisco.
I have done a lot of things throughout my 45 years, but I always seem to come back to writing. Much of my interest these days is on the Christian faith, Lutheran doctrine, queer rights, poverty, justice reform, and the treatment of inmates in America, although recently I have been involved in Occupy Oakland and am currently active with Occupy Oakland's Interfaith Tent.
I am presently married to Michael Deschenes (church, not paper, still waiting for it to be legal in California). My dog, Banjo, has been with me for nearly 10 years.
Here's how you can find me:
No TrackBacks
TrackBack URL: http://www.bastique.com/cgi-bin/mt/mt-tb.cgi/13