A sermon on the nature of familiarity and the love of a Lord who shepherds his flock, laying down his life.
The text notes I preached from are after the sermon audio for convenience, however, I suggest you listen to the sermon audio, because there were numerous changes during the delivery. It is in the delivery of a sermon in the midst of the people of God which is where he Holy Spirit is doing the strongest work within me; and there will not only be some changes to the notes but also emphasis and intonations that don't occur in the notes.
Sermon delivered at St. Matthews Lutheran Church of San Francisco
April 26, 2015 - 4th Sunday of Easter (Good Shepherd Sunday)
"Shepherd's Voice" - Lectionary text from John 10:11-18 and Psalm 23

---
Greetings my sisters and brothers....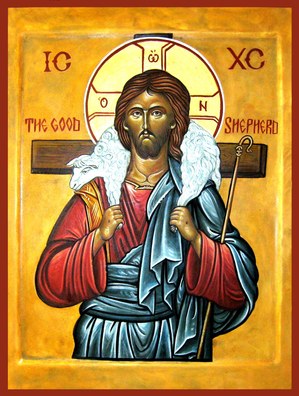 You will remember that I was here several times last year during your interim period and had gotten to know you, but with your having hired Pastor Kerstin to be your pastor, and my graduating seminary, I never really expected to be back here, and so when Pastor Kerstin invited me to come fill in for her this Sunday, I was delighted to come see faces that I recognize and meet some that I had never met before.
And so, hello everyone! I am sorry that I do not remember most people's names, but I am glad to see faces that I do remember, and am glad to make a reconnection with you on this beautiful Sunday, the Fourth of Easter.
And I will also say that it is also a nice feeling, to be recognized, to be known with fondness, that when you enter into a room faces light up, making you feel welcome even if nobody has yet spoken one word to you, and that you know that there is plenty of goodwill from good people to encourage you, uplift you, and help see you through your day.
It is especially true, for me, that I have been able to become involved with things I like doing, be they 12-step meetings, my volunteer work at San Quentin prison, or getting together with former classmates at Pacific Lutheran Theological Seminary, that even if I have had a particularly rough day, that it seems that things are going wrong and bringing me down, that I can get together with good friends, with people who love me and recognize me and hold my interests in their hearts, and that I can look forward to those times as places where I can find respite from the sometimes all-too-chaotic hassles that go with daily life.
It is that kind of familiarity that we find described in Psalm 23, the same kind of loving-kindness brought to us by our Lord Jesus, the Good Shepherd, as he describes the shepherd knowing the sheep and the sheep knowing the shepherd and the lengths that the shepherd will go to in order to protect the sheep, lengths that bring him all the way to death.
The Lutheran church in accordance with the common lectionary has, with the other churches that share the same lectionary cycle instituted the 4th Sunday in Easter as what we call the Good Shepherd Sunday. And each year on the 4th Sunday after Easter, we read a different portion of John, Chapter 10, what is commonly known as the Good Shepherd and his Sheep discourse.
And while the text on its own feels inviting and comforting, it should be read with some deeper acknowledgement of the context in which Jesus is speaking. Jesus is not simply speaking to the reader, but this comes at the heels of the healing of the man born blind, in chapter 9, the man who was thrown out of the temple. Jesus is not simply speaking to his disciples and followers, but also to the Pharisees, the ones who are divided on the authority that Jesus has by performing his miracles versus the violation of doing those miracles on the Sabbath. Some of these same people who will be among those wanting to stone Jesus later on in Chapter 10. So there is some tension being laid forth as we approach this Good Shepherd narrative.
So, we hear again and again from our present reading that the good shepherd, in fulfilling his duties and being the one shepherd does so at a cost. We learn that when the wolves come to attack the sheep, that the hired hand, who, not having any concern for the well-being of the sheep at all because they don't belong to him, and being afraid of the wolves, runs off to leave the sheep at the mercy of the assailants to protect himself. But the shepherd, being the one who loves his sheep will be the one who lays down his life for the sheep, who chooses to lay down his life for the sheep.
Now, I'm almost inclined at this point, to wonder, what happens with this metaphor when you apply it to the context. What must be going through the minds of the Pharisees and even many who were following Jesus, maybe even some of his disciples, because after all, wasn't Judas there among them at this point as well? If the shepherd lays down his life for the sheep, well, that's all very good, but what does that mean for the sheep at that point? The shepherd is dead and gone, and the sheep are left without someone to guide them and protect them. And that would leave them terribly sad and lonely.
And that's where the wondrous miracle of Jesus as the good shepherd comes to us, because when we finally understand who Jesus is, we know that when he lays down his life for the sheep, his followers, the children of God, those who are given a place in the promised kingdom, we understand that when he means to take it up again, he is risen as the king of creation, on the throne, ruling over the flock.
And when he lays down his life for the sheep to protect them from the wolves, we understand that this is not a momentary thing, the wolves, the enemy of the sheep is the enemy of the people of God, death, the devil and the power of the grave, and Jesus has, upon rising on the cross, defeated it. While the shepherd lives, the enemy is defeated. While the wolves may appear at the threshold of the flock, and appear dangerous, the good shepherd has, just as Jesus has over those earthly powers, prevented the wolves from ever being a menace again.
So even in Jesus' time, the people of Jerusalem had already begun to become acclimated to city life, so what they were looking at when Jesus spoke to them of the Good Shepherd the language was more reminiscent of what we know as Psalm 23, which Jesus' listeners would have been easily familiar with. The Lord who makes his sheep to fertile pastures and clean, clear waters, who comforts and keeps the sheep all of their days.
And as Jesus says, he knows knows the sheep by name and they hear his voice.
Imagine yourself in a crowded room, perhaps at a bar ordering a drink, or even at a busy restaurant. Conversations are going left and right, there is noise bustling around you. You yourself are engaged in a conversation with the people you sit with, and are easily able to drown out the voices around you. Suddenly, though, your name is called out. It does not matter where from, but the voice one who you immediately identify to be familiar. That familiarity, that name calling, breaks through the cacaphony of the world around you and is instantly attention-grabbing. You know who it is that calls you and you smile.
And there is a comfort even in that familiarity, at God knowing our name. When he called Samuel to be his prophet, a little boy who responded, "Here I am". That love when Jesus Christ speaks the name of Lazarus as he called his good friend out of the tomb after having been dead three days, as he named Mary at his own tomb with heart-warming kindness. And just as he knew their names so he knows ours, and so we know his voice and our very being reaches back to him and we can feel the loving-kindness and know deep in our hearts, his name, even as he knows each and every one of us.
So when Jesus lays down his life for us, it means that we no longer have to fear the power of death and the devil. That as the good shepherd who watches over us, those times when we face hardships and struggles, Jesus' voice is the one who we recognize, calling out to us, follow him out of the darkness that we might find ourselves estranged in.
And while many of us have never met a shepherd, and I venture to say that some of us have had few if any encounters with sheep, we are able to still understand this pastoral perspective on our relationship with Christ our Lord. Even though we do not ourselves live in the midst of livestock, we can certainly, even now, draw strength and hope that no matter what our troubles, no matter how the struggles that we may endure sometimes on a daily basis, that his leadership, his loving-kindness and familiarity will shepherd us around the hazards of life, through the dark times and to better times in his glorious heavenly kingdom to come.
And that, my sisters and brothers, is good news.
Amen.