You go into the desert, do you expect to see palaces? You have a warehouse with no running water and sketchy electricity, you expect to have sprinklers and smoke detectors? You have out-of-control housing prices, what kind of conditions you expect for the people who can't afford proper housing?
This sermon is quite a bit different from how it was written, therefore, please listen to the sermon rather than read it. The sermon notes which are included for convenience.
---
Greetings to you, sisters and brothers, my family in Christ, saints and sinners, children of God.
The gospel during Advent is good news. It is anticipation from beginning to end. It cries out from the perspective of souls longing for justice and self-determination. It reminds us that our God is a God who brings justice to all the world, a God who feeds the hungry, who frees the captives, welcomes the poor, the stranger, the widow and the orphan into God's loving arms. As Mary cries out, God comes to the aid of God's servant Israel, and remembers a merciful promise made to Abraham and all that would succeed him, a promise that with the birth of Jesus becomes open to all the world.
And yet, when we look at our Gospel message, we relate a time of ending for one of the heralds of the king to come. We read about one part of John the Baptist's ministry last week, while he was baptizing people in the River Jordan. Now he is in Herod's prison, hopeful that the one who he's been hearing about, Jesus of Nazareth, is the one foretold by the prophets, the one who he's been proclaiming who is coming forth. And John the Baptist has good reason to be wondering, because he knows his time is at end. It matters not what his eventual fate will be, and I doubt even John knew that he would soon be served up on a platter to the daughter of Herod, regardless, John knows that he will not be lasting very long in the prison.
And so it is important to now that his life, his work has had some meaning. "Are you the one who is coming, Jesus, or do we need to wait around for another?" And by the way, I can't really afford to be waiting around...
Jesus's response must have been comforting to John, even if he doesn't answer him with a direct yes or no. After all, the blind can see, paralyzed people are walking, the deaf can hear, lepers are now made clean, and the dead live once more. And this next one is so very impressive: The poor have good news brought to them, in a reminder that it is a service that must be done. And if you're not offended by that...and we wonder how people could find offense at any of these miracles...then you are truly blessed.
But as we move back to Jesus talking about John, we may want to wonder what Jesus meant about people expecting a reed and palaces in the wilderness. It is important to understand that Herod sometimes used the reed as his own symbol, and that he and others who were puppets of the Romans had symbols and homes in the Jordan River valley... the wilderness, where John was preaching and immersing people for baptism.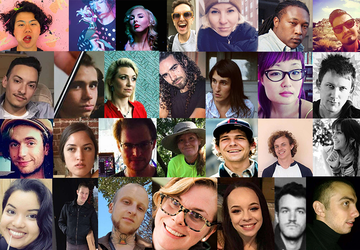 But what they find in the wilderness is not any of these comforts, because who would go out into the wilderness and find comforts? But instead a prophet, a man who was telling people to repent, because the one in whose shoes he was not worthy to walk in was coming, and the kingdom was at hand. The time for the true king of the people was drawing near. But what were people expecting? Someone in fine robes and gold and not a man in a suit of camel hair and a leather belt tied around his waist who fed himself with locusts and honey. A man who when Jesus says was the least of them meant to be one they were not expecting.
What would you expect to see when you went into the warehouse with no electricity and no working plumbing, piled with cast off furniture and partitioned out for artists to work and live. A sprinkler system? You have got to be kidding. And we look at the man who leased this building and let struggling artists stay there for something considerably less than market rates in the area. I know people who would, even knowing what happened to the Ghost Ship, still would be willing to find shelter in such a place given the opportunity.
While I myself find it appalling that such a deathtrap place existed, and other such places exist, it really shouldn't come as any surprise to me, that, given the difficulty finding housing in our area, given the outrageous costs to live here, and given that our local politicians refuse to do more than the bare minimum about it. People need a place to live, and there is too much draw in living here, particularly for the community that found themselves at home in this Ghost Ship.
What do we expect to see when you live in an area that rental prices for a small apartment can easily start at $2,000, and yet we still expect to have a thriving Bohemian type artist community of people who are barely earning a living. The sadness in this fire of these lives lost, young people, part of the future of our community, is that we have lost people with idealism, creativity, whimsy, young people with talent that will now not be contributing to our prevailing culture.
Because we live in a place at a time where we cannot possibly sustain an underclass, that we have this housing problem with no immediate solution, and it seems as if it can only get worse. Where is justice? Where is the deliverance from our need?
As we await the promise of the coming king, we remember that this king, this Christ who is promised one, has been made known to us through the prophets as one who welcomes those who have no home and those who are poor. When Mary declares that our God is one who casts the mighty down from their thrown and uplifts the humble of heart, that the words of the Magnificat themselves declare that the poor themselves have a great and abiding need to be humanized. That God wishes for them to be remembered in our daily lives.
We may struggle to find some hope in a situation that appears to be hopeless, that this season in particular has dealt us some blows that would make it more difficult to see that the needs of those who need shelter are addressed. We may look at the news and see only that humanity thrives on self-interest, and that our government seems to be poised to dismantle all of its support networks. It is at times like these that we need take John's word's to heart. The way of the Lord is prepared. That no matter what government we have above us, that Christ rules our hearts and that the king frees us from captivity, lifts us out of darkness and gathers us into one church, that we be his body in the world.
But solutions are not easy. What were you expecting to show us the way to God? Soft robes? The ones who are rich in palaces will not be the ones who prepare us for the coming king. Look to the homeless, the poor. Therein lies the good news that Christ, our king, is coming. All the world rejoices.
Amen.