Blessed can have many meanings, and the implication that "blessed" was similar to "wealthy" was not unintended, even in Jesus name. But Jesus turns it around, and the beatitudes are telling us that we are blessed when we walk in his ways.
This sermon is quite a bit different from how it was written, therefore, please listen to the sermon rather than read it. The sermon notes which are included for convenience.
---
Good morning to you my sisters and brothers in Christ, saints and sinners, children of God.
The Sermon on the Mount, which starts with the Beatitudes, is Jesus's first act that takes place in the Gospel of Matthew. It also sets the stage for how Matthew wants to present Jesus which is as a teacher of righteousness. It is in the Sermon on the mount where the disciples of Jesus first learn about what it means to be disciples. Who was Jesus saying was being blessed, and what exactly did that mean?
The first group that Jesus says are blessed are the poor in spirit. We find in Luke's version it simply reads poor, and what Matthew is telling us is that poverty is not only a material condition but a spiritual one. What Jesus is saying here is that the poor, who, as today, existed in great numbers, in fact probably more so, and who were nevertheless rich, for theirs is the kingdom of Heaven.
Those who mourn is not specifically about those who have lost loved ones as we might consider it today, but those who grieve for any reason, be it for lost time, opportunity, even simply being oppressed would qualify one for this version of mourning. These people, Jesus tells us are blessed and will be comforted.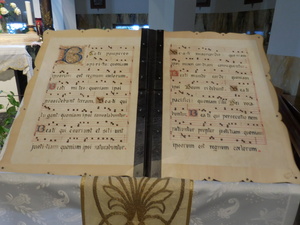 Meek may be another way of saying poor, but it is about being humble, and living humbly. This is, however, not any kind of humility that one attains for one's self but the humility that is given untio a person by virtue of getting humbled from life experience. Like the two previous ones, Jesus is letting these people know that they are indeed blessed, for these are the ones who inherit the earth.
Now here that the beatitudes take a bit of a turn. We begin to move from describing people with external conditions forced on them to describing those with agency. While we might want to read hunger and thirst after righteousness to be metaphorical descriptions, Jesus may have literally been talking about those who fast to make things right. And the blessedness that they experience is more than metaphysical, in that the receiving of righteousness, they experience a physical filling as well. Their fast has come to an end. Jesus is literally telling them that what they wish for will come to pass.
The fifth group of people who are rich with blessings are the merciful. This is fairly straightforward. Those who find means of giving out of their own heart to those who are unfortunate, will also receive the same sort of mercy. No doubt this is also describing the mercy that we all receive from God who forgives us of our sins.
The pure in heart of the sixth Beatitude may be considered those who have absolved themselves spiritually, those who have cleansed their own beings by asking forgiveness. Is Jesus referring to ritual cleansing as was common in those days or is he looking forward to the figure when it is his blood that washes away the sins of one's soul? In any case, it is only through a clean heart that we are able to see God.
Peacemakers are not people who refuse to fight, but people who bring active conflict to an end. This is not always easy, particularly in light of the fact that not everyone wants to end hostilities. Some people have a compelling interest in conflict, and these interests can complicate matters, making the job of a peacemaker that much more difficult. Those who manage conflict and bring it to resolution are performing miracles. Those people may be called the children of God.
Finally, we get to the eighth beatitude, those who are persecuted, which is restated in the next verse as if to emphasize this. This is a comfort to Jesus's followers in later times, after his death and resurrection, because his disciples and many early Christians would find themselves in under threats of persecution. And for many centuries, dying for their beliefs. Jesus is letting them know that no matter what they may suffer on earth for their beliefs, that their blessings and rewards in heaven would be great.
There is little doubt that anyone who listened to what Jesus was saying could not find themselves at least relating to one part or another. That the crowds could find themselves comforted and blessed by virtue of one or another of these.
That we ourselves can be comforted, when we find ourselves poor and mourning. When we engage in making peace between parties, when we open ourselves up to others and find ourselves being merciful, that we discover that we too, deserve mercy.
And when it seems that our government and our society is failing those that are the least among us, that we decide to overlook those that need our help most, that Jesus is reminding us, when we most need to be reminded, of our own complacency about the kingdom of God.
Jesus is speaking to us in ways reminding us, as Elie Wiesel said in 1986, "here may be times when we are powerless to prevent injustice, but there must never be a time when we fail to protest." My sisters and brothers, I speak of my own failures and cowardice in speaking out against the injustice that has suddenly become more commonplace in the world around us, and I myself am rebuked in knowing that when the time comes for me to expect righteousness for myself, whether I could have said more, I could have done more to provide righteousness for others?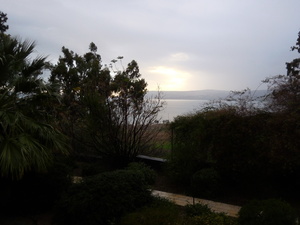 Do we, God's people, thirst and hunger for righteousness or do we look to others, assuming that they will take care of those needs for us. Do we thirst and hunger for righteousness or are we afraid of taking sides, knowing that the safe bet is simply agreeing with everyone and saying that there are no unjustifiable positions? Do we choose to look the other way when people we don't know are being marginalized or ostracized, because it doesn't affect us? Do we make excuses that change happens slowly and pretend when things take a turn backwards that it is only part of the forward moving process and things will turn around without our being part of it? Or are we able to hunger and thirst for righteousness, unconcerned about who we will offend, about who will unfriend us on Facebook.
We, all of us, fall somewhere on the beatitudes, not only because some of us are in conditions of being blessed, poor in spirit, mourning, humble and meek, but all of us are capable of being the people God calls us to be to effect change in the world. We are the ones who can be merciful when called to be merciful, because we are filled with the light of Christ. When we see conflict, we can be peacemakers, unselfishly stepping in even when our own comfort is at risk. And because hungering and thirsting for righteousness is a positive action, we can call out injustice when we see it, speak out and take action, not because of the rewards that we desire in heaven but because it is what the spirit drives us forward to do.
The good news, my sisters and brothers, is that you are blessed, your rewards are rich, and both the earth and the kingdom of heaven will come to you. Jesus tells us, though we fall short from time to time, that we have an opportunity to change and grow. That even in times of trouble, we can make our hearts pure, through his death and resurrection, and sanctified we gaze on the face of God.
Remember that you are loved, my sisters and brothers, blessed, and children of God.
Amen