The Umbrella 4 hearing was scheduled for this morning at 9. To explain briefly, the Umbrella 4, Sri, Alexandra, Nichola and Rita, were all ticketed at Frank Ogawa/Oscar Grant Plaza in Oakland last November for a charge that was issued for not removing the umbrella that the Interfaith Tent was using after the Occupy Oakland encampment was evicted from the plaza weeks earlier. Without the details in front of me, the charge was one that is specifically geared toward permanent structures; while the Umbrella that we were using was one that was put up and taken down in the matter of ten minutes. The citations were inappropriately issued, and these four brave women were determined to dispute the charges, represented by noted civil rights attorney Walter Riley.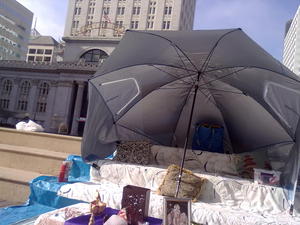 I hopped aboard a 72R bus at San Pablo and 40th and rode down to the Wiley W. Manuel Courthouse this morning to attend the hearing. There I met Nichola who was already talking with Mr. Riley, and soon Rita and Alexandra arrived as well as some other supporters (Sri's charges were never filed with the court and she was not present). The hearings scheduled for room 103 were moved to room 102, which is ordinarily traffic court, and had been rescheduled for 8:30 without notification of the pertinant parties. Riley stepped into Room 102 when it opened and returned shortly after, notifying us that the hearings had taken place. Alexandra and Nichola's charges were vacated because the police officers were not present, but Rita was found guilty, as Officer Romero, the one who issued her citation, was present, and Rita was not (not having been informed of the time change).
The court is entirely neglectful by rescheduling hearings without notifying the parties. This case will be reheard and dismissed, because Rita has the right connections with a group of people with the wherewithal and determination to take a stand on abuse of the power of civil authorities. But this small incident underscores the much larger and deeper injustice issues involving some police agencies and the Oakland Police Department in particular.
The OPD acts with complete impunity, issuing citations under the auspices of maintaining the peace. As often as not, people do not have the ability to dispute or fight such charges, and may not even be aware that the charges filed against them are invalid. People who do wind up in the system are inordinately people of color.
In cases where the OPD is found accountable, they wind up being slapped on the wrist. Take last month's decision by the Oakland City Council to pay punitive damages issued by a judge to former Officer Ingo Mayer for performing an unlawful strip search. The city, already having been itself fined $205,000 for its policies, decided that it was also responsible for the individual misconduct of one of its officers. What effect this has, however, is that even when an officer is acting on bad behavior, and that officer has been found culpable, the city of Oakland will step in and use taxpayer money to protect that officer, thereby providing more cover to the OPD.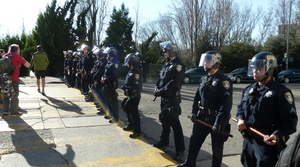 The Oakland Police Department gets cover from the civilian population as well. In a city with notoriously high crime rates with a significant ethnic diversity (almost a quarter each non-hispanic Black, non-hispanic White, and Hispanic, with another 16% Asian), some areas are more demanding on the police department than others; and a large number of residents are loathe to do anything to "break" an already fragile and understaffed department. Given its history, a good half of Oakland's residents have no trust of the department at all, and are not willing to use a city service that may just as easily turn on them for no good reason.
After a judge in January ordered oversight for the Oakland Police Department, it became blindingly obvious that this abuse-ridden organization needs to change, but given the lack of willingness from external sources such as a city manager who refuses to provide accounting for it, and a populous fearful of rumblings of increased crime statistics, the change needs to come from within.
Despite the results emerging from this seriously broken system, individual cops are not inherently evil. A design flaw in this justice system is the objectification of people who are members of a particular ethnic or racial group is designed to turn human beings into criminals in the minds of cops as well as the "public" at large.
Why does the city of Oakland, which ought to be in the forefront of the fight for social justice, continue to have institutions that systematically promote those social evils of racism and classism? Things should be different here.
The OPD is a closed institution, meaning that it will not succumb to any external influence. There is virtually nothing that anyone from the outside of the system can do to change it. It relies on public funds and has no accountability to that same public. Change has to come from within or it must be dismantled and an accountable institution that actually serves the public rather than its own interests must be put into place.